When:
2023-03-01T12:00:00-06:00
2023-03-01T12:15:00-06:00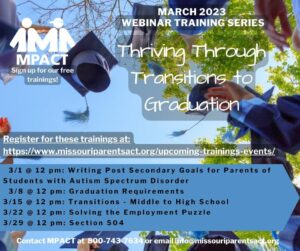 Thriving Through Transitions Webinar Series, each Wednesday in March,12:00-1:00PM
Writing Post-Secondary Goals for Students with Autism Spectrum Disorder (ASD), 12:00-1:00PM
Young adults with Autism Spectrum Disorders face unique challenges in transition to adulthood. This training addresses the development of Post-Secondary goals that address common concerns among students with ASD – communication, social skills, self-regulation, and sensory concerns – as well as Transition Assessment and measuring progress.
3/8/2023 Graduation Requirements for Students in Missouri Public Schools, 12:00PM-1:00PM
Discover options for graduation, the importance of an Individual Career Education Plan, various ways to earn credits, the impact of IDEA and ADA Section 504, and information contained in the Summary of Performance.
3/15/2023 Transitions: Middle School to High School, 12:00-1:00 PM
Join us for a training that discusses tips for the transition from middle school into high school as well as information surrounding IEPs components.
3/22/2023 Solving the Employment Puzzle, 12:00-1:00 PM
Join us for training designed to help parents and youth understand the importance of planning for life after high school.
3/29/2023 Section 504 and Student with Disabilities
Join us for a training to learn about the background of Section 504, the evaluation process, 504 plans and services, and the procedural safeguards in place to protect individuals with disabilities.